Recently, at University Autos (one of the many Yamaha dealerships based in Karachi), 2 YBRs were booked through the Meezan Bank Bike Ijarah lease program. When the man who booked the two bikes was questioned about who was he buying them for, his simple reply was that he would reveal that soon. The very next day, he came back to the dealership with his two sons and surprised them by handing them over the keys to the two bikes on the spot.
The reaction of these two young men was something no one expected. The two brothers broke down with tears in their eyes and thanked their father for the gift he had bestowed upon each of them. The pictures of these brothers and their proud father can be seen below: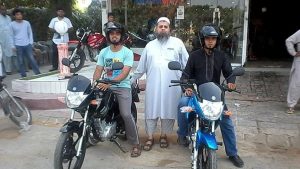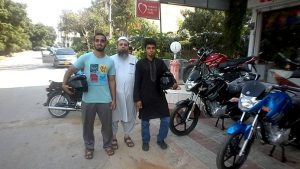 The importance of highlighting this story is that these two boys are among thousands of other individuals whose dreams have been realized thanks to the Yamaha and Meezan Bank joint venture. The partnership was formed solely to provide the YBR bikes to those who were in need of them but could not afford them with their own money. And it is great to see that so many aspiring young men have become proud owners of their own Yamaha YBR through this program.
For those who are still not aware of it, Yamaha and Meezan Bank have partnered up to provide affordable Bike Ijarah solutions to the people for YBR 125 and YBR 125G.
The Bike Ijarah program is completely Shariah-Compliant, ensuring that the customers get the bikes in an Islamic way. What's more, the customers can officially own the bike at the end of their lease term, which not only provides financial security but also offers stability in the sense that the bike can actually become an asset for the customers later on.
To find out more about the Meezan Bank Bike Ijarah solutions, visit this link.